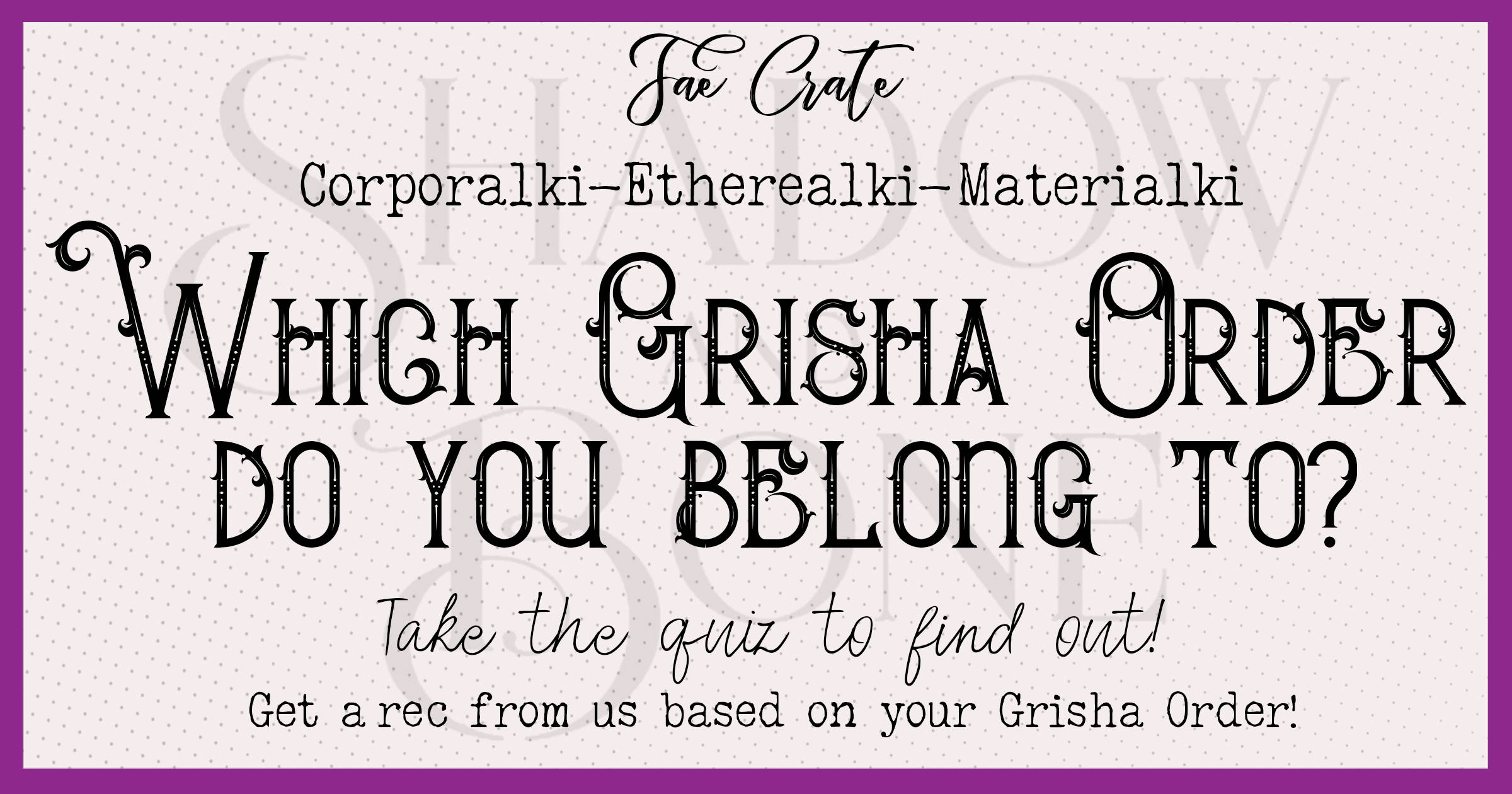 We're back with a fun quiz! Like many of you, Team Fae Crate is OBSESSED with Shadow & Bone, both on Netflix and Leigh Bardugo's books. We want to know which Grisha Order you belong to, and offer a book rec we think you'll love! Answer each question below and keep track of your answers. Whichever letter you answer most of is your Grisha Order!
1. You're going out for dinner with friends. What do you order?
A. Whatever is quick--I don't like to wait around.
B. Something high in protein--I live an active lifestyle and constantly need fuel.
C. Whatever is most local and fresh and promises to look gorgeous on my plate.
2. It's picture day! What do you grab from your closet?
A. Anything red!
B. Anything blue!
C. Anything purple!
3. If you could travel anywhere, where would it be?
A. The Little Palace
B. Across the Fold
C. Fjerda
4. Besides reading, what is your favorite hobby?
A. I'm really into STEM projects
B. SPORTS
C. I love playing with makeup and fashion!
5. What is your least favorite chore?
A. Laundry--you hate all the stains you're constantly fighting.
B. Dusting. Moving that slowly is likely to be your undoing.
C. There is something so unpleasant about doing the dishes.




THE RESULTS ARE IN!
(SWIPE FOR MORE!)
Mostly A's: Corporalki, The Order of the Living Dead
This Savage Song by V.E. Schwab
Kate Harker and August Flynn are the heirs to a divided city—a city where the violence has begun to breed actual monsters. All Kate wants is to be as ruthless as her father, who lets the monsters roam free and makes the humans pay for his protection. All August wants is to be human, as good-hearted as his own father, to play a bigger role in protecting the innocent—but he's one of the monsters. One who can steal a soul with a simple strain of music. When the chance arises to keep an eye on Kate, who's just been kicked out of her sixth boarding school and returned home, August jumps at it. But Kate discovers August's secret, and after a failed assassination attempt the pair must flee for their lives.
Serpent & Dove by Shelby Mahurin
Bound as one to love, honor, or burn.
Two years ago, Louise le Blanc fled her coven and took shelter in the city of Cesarine, forsaking all magic and living off whatever she could steal. There, witches like Lou are hunted. They are feared. And they are burned.
Sworn to the Church as a Chasseur, Reid Diggory has lived his life by one principle: thou shalt not suffer a witch to live. His path was never meant to cross with Lou's, but a wicked stunt forces them into an impossible union—holy matrimony.
The war between witches and Church is an ancient one, and Lou's most dangerous enemies bring a fate worse than fire. Unable to ignore her growing feelings, yet powerless to change what she is, a choice must be made.
And love makes fools of us all.
If you love Serpent & Dove, check out our
Gods & Monsters Mini Hangover Recovery Kit!
What to expect in these kits?
🐍 A SIGNED edition of Gods & Monsters by Shelby Mahurin!
🐍 A decorative dust jacket set for the entire series designed by the ever wonderful Gabriella Bujdoso!
🐍 A plushie chosen by the author and inspired by one of our favorite cosplayers! This plushie is utterly gorgeous and we cannot wait to show you!
🐍 2-3 Exclusive high quality items!
These kits will be priced at $50.00 plus shipping and will go on sale Monday, May 17th at 5 PM EST.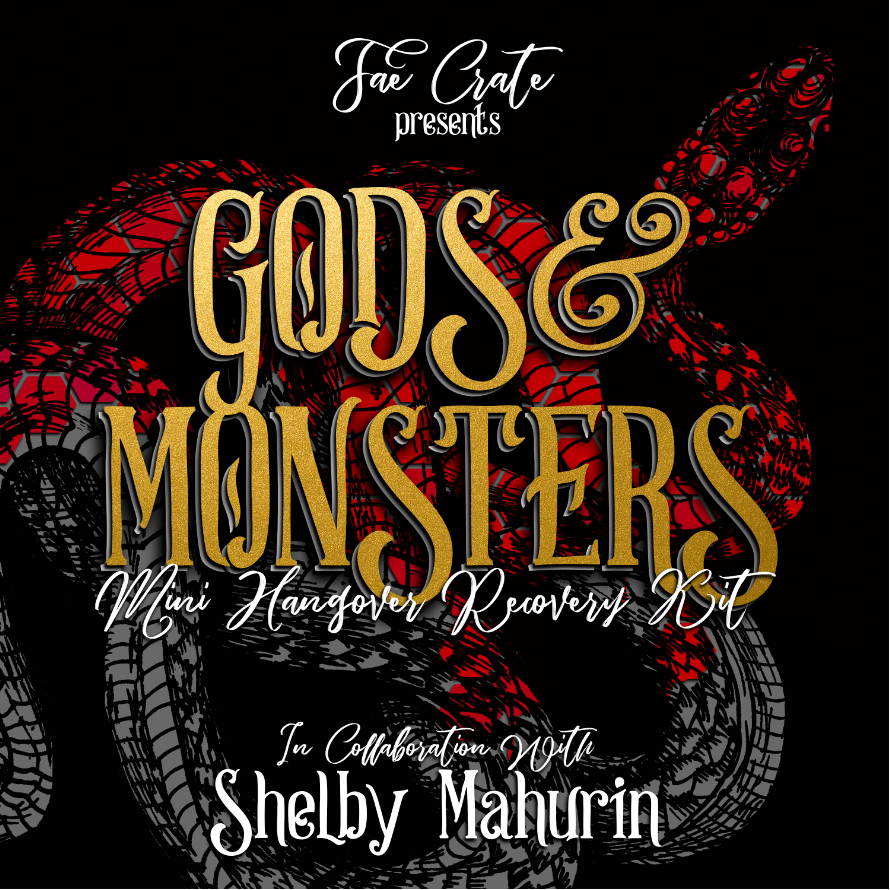 Mostly B's: Etherealki, The Order of Summoners
The Young Elites by Marie Lu
I am tired of being used, hurt, and cast aside.
Adelina Amouteru is a survivor of the blood fever. A decade ago, the deadly illness swept through her nation. Most of the infected perished, while many of the children who survived were left with strange markings. Adelina's black hair turned silver, her lashes went pale, and now she has only a jagged scar where her left eye once was. Her cruel father believes she is a malfetto, an abomination, ruining their family's good name and standing in the way of their fortune. But some of the fever's survivors are rumored to possess more than just scars—they are believed to have mysterious and powerful gifts, and though their identities remain secret, they have come to be called the Young Elites.
Teren Santoro works for the king. As Leader of the Inquisition Axis, it is his job to seek out the Young Elites, to destroy them before they destroy the nation. He believes the Young Elites to be dangerous and vengeful, but it's Teren who may possess the darkest secret of all.
Enzo Valenciano is a member of the Dagger Society. This secret sect of Young Elites seeks out others like them before the Inquisition Axis can. But when the Daggers find Adelina, they discover someone with powers like they've never seen.
Adelina wants to believe Enzo is on her side, and that Teren is the true enemy. But the lives of these three will collide in unexpected ways, as each fights a very different and personal battle. But of one thing they are all certain: Adelina has abilities that shouldn't belong in this world. A vengeful blackness in her heart. And a desire to destroy all who dare to cross her.
It is my turn to use. My turn to hurt.
Forest of Souls by Lori M. Lee
Sirscha Ashwyn comes from nothing, but she's intent on becoming something. After years of training to become the queen's next royal spy, her plans are derailed when shamans attack and kill her best friend Saengo.
And then Sirscha, somehow, restores Saengo to life.
Unveiled as the first soulguide in living memory, Sirscha is summoned to the domain of the Spider King. For centuries, he has used his influence over the Dead Wood—an ancient forest possessed by souls—to enforce peace between the kingdoms. Now, with the trees growing wild and untamed, only a soulguide can restrain them. As war looms, Sirscha must master her newly awakened abilities before the trees shatter the brittle peace, or worse, claim Saengo, the friend she would die for.
Mostly C's: Materialki, The Order of Fabrikators
A Golden Fury by Samantha Cohoe
Thea Hope longs to be an alchemist out of the shadow of her famous mother. The two of them are close to creating the legendary Philosopher's Stone—whose properties include immortality and can turn any metal into gold—but just when the promise of the Stone's riches is in their grasp, Thea's mother destroys the Stone in a sudden fit of violent madness.
While combing through her mother's notes, Thea learns that there's a curse on the Stone that causes anyone who tries to make it to lose their sanity. With the threat of the French Revolution looming, Thea is sent to Oxford for her safety, to live with the father who doesn't know she exists.
But in Oxford, there are alchemists after the Stone who don't believe Thea's warning about the curse—instead, they'll stop at nothing to steal Thea's knowledge of how to create the Stone. But Thea can only run for so long, and soon she will have to choose: create the Stone and sacrifice her sanity, or let the people she loves die.
Mistborn by Brandon Sanderson
For a thousand years the ash fell and no flowers bloomed. For a thousand years the Skaa slaved in misery and lived in fear. For a thousand years the Lord Ruler, the "Sliver of Infinity," reigned with absolute power and ultimate terror, divinely invincible. Then, when hope was so long lost that not even its memory remained, a terribly scarred, heart-broken half-Skaa rediscovered it in the depths of the Lord Ruler's most hellish prison. Kelsier "snapped" and found in himself the powers of a Mistborn. A brilliant thief and natural leader, he turned his talents to the ultimate caper, with the Lord Ruler himself as the mark.
Kelsier recruited the underworld's elite, the smartest and most trustworthy allomancers, each of whom shares one of his many powers, and all of whom relish a high-stakes challenge. Then Kelsier reveals his ultimate dream, not just the greatest heist in history, but the downfall of the divine despot.
But even with the best criminal crew ever assembled, Kel's plan looks more like the ultimate long shot, until luck brings a ragged girl named Vin into his life. Like him, she's a half-Skaa orphan, but she's lived a much harsher life. Vin has learned to expect betrayal from everyone she meets. She will have to learn trust if Kel is to help her master powers of which she never dreamed.


We want to know! Which Grisha type are you? Are there any other books you'd recommend?
Thanks for hanging out with us!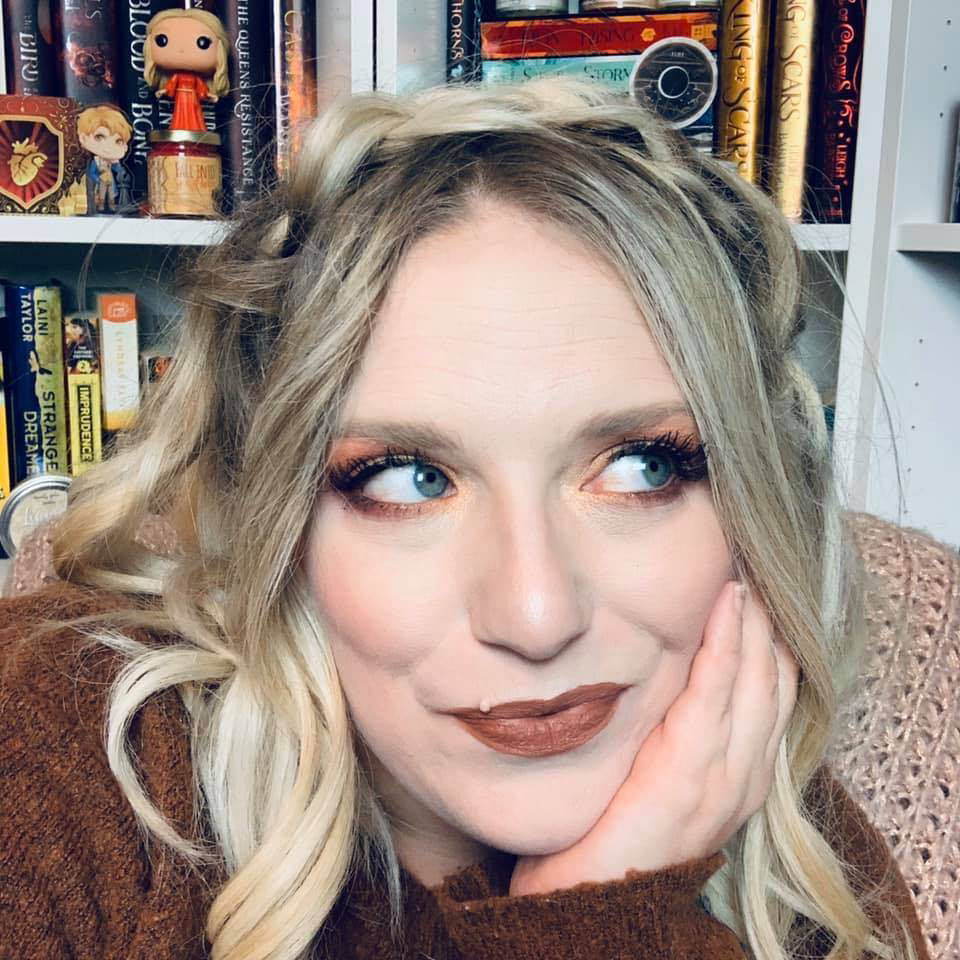 Written By:
Taylor, Social Media Assistant
"I need a queso fountain."
Published On:
May 3, 2021