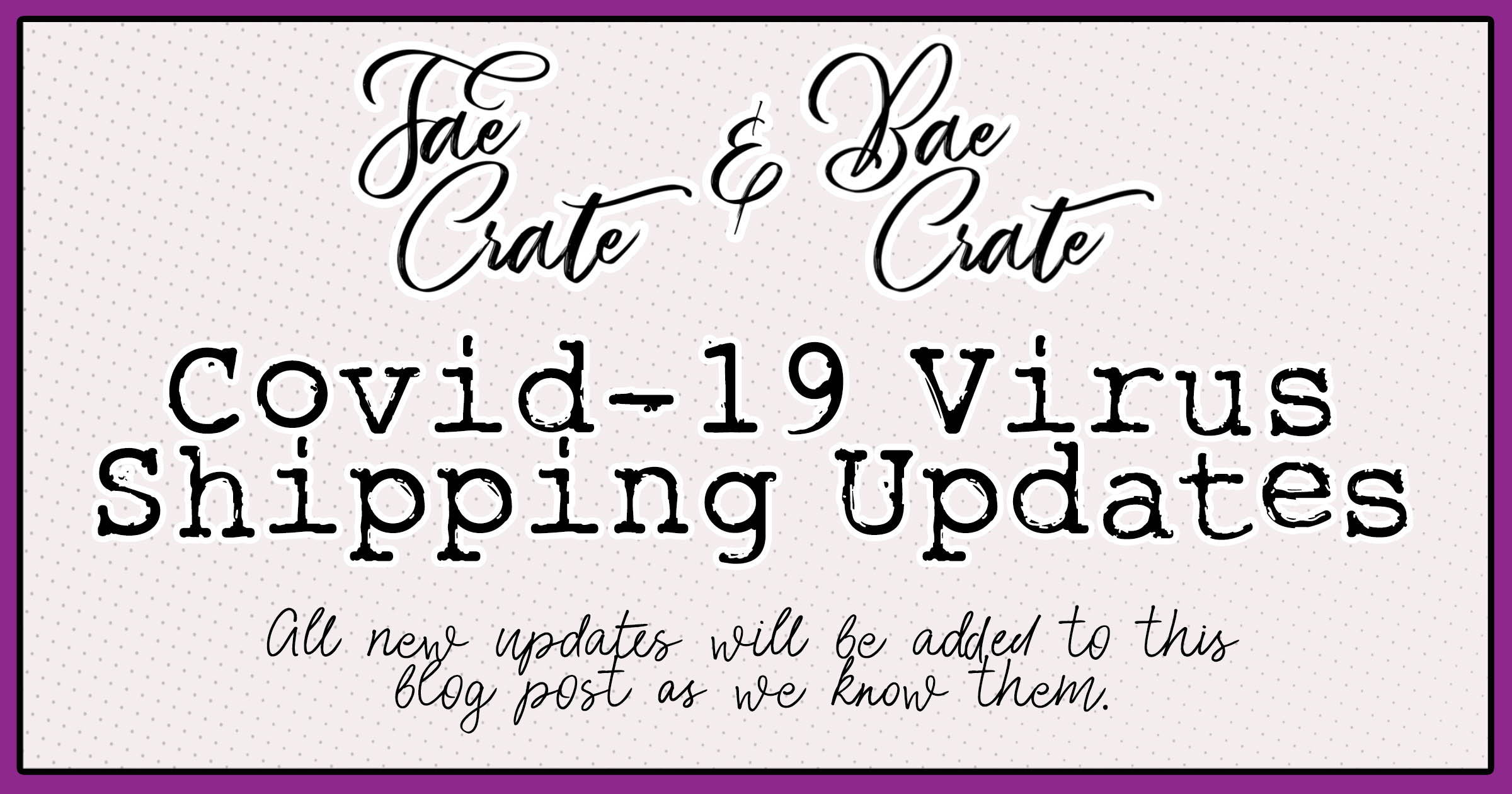 As you all know, a bunch of changes are happening in our world currently involving the COVID-19 virus. We want to go ahead and contact you all and prepare for any situation that may arise in the future. As of now, we are unsure how these changes will impact Fae Crate and Bae Crate as there is something new happening every day.
-Here's the gist of things as we know them-

The United States is currently under a National Emergency that was announced recently. Flights from outside of the United States are being cancelled and banned which will affect some of our shipments, though we are unsure of which. We have been notified by some of our vendors that their postal services are closing down shipments until the end of March and will let us know when they can ship their items out. As of right now- our vendors in China are still working on our products and other than delays in being backed up, none have been cancelled. Meagan, Brittany, and the entire team, are currently dealing with our states closing stores, gatherings, schools closing, etc. A good deal of our team are mothers who will have children at home while working until the end of March at the very least.

We are concerned with the possibility of North Carolina, where our fulfillment center is located, facing the same issues soon. If that happens, it will play as another factor in shipping. As we mentioned, this has not happened yet. Many of the changes that are coming into play are happening very quickly and we are just having to roll with the punches. If or when any of these happen- we will update you all accordingly. We are 100% wanting this entire process to be as clear and transparent as possible with you all.

What most of this means is we are playing a lot of shipping by ear. What we can promise you is that every Fae Crate and Bae Crate WILL ship no matter what. This is not a question of funds or purchasing the items- it is just a question of when these products will be made and received. We have never failed on shipping a box and we do not plan to start here or ever. We will be updating you all regularly on which crates we believe will be impacted. We won't be sending out emails constantly unless something major happens. However, we will post to social media with updates as we have them. And this blog post will be updated each time something new comes up.
We know this is a huge info dump and no one likes to read about delays, us more than anyone. We want these packages our team has worked on to reach your hands very badly. We will continue to be transparent as we have always been to make sure you always know what is happening with your packages. Please be patient with our Customer Service Team as we are receiving a higher influx of emails than normal. Replacements of damaged items may also take more time during the end of this month and April as we will have back to back packages going out and our fulfillment center is not a huge one.

We wish everyone health and safety during this time. Things are very serious and scary in our world right now and we will all get through it together.
February Fae Crates have already left our center and in the hands of the Postal Gods. May they have mercy on us all and get these packages to you as quickly as possible. Some countries are checking international packages more thoroughly or holding mail all together. Please check with your own country's postal changes to see how this may affect you personally.
We updated last saying we were waiting for the jewelry boxes to arrive which were delayed to the virus when it first started. The jewelry boxes landed in the US about a week ago and have just cleared customs yesterday. They are in route to our fulfillment center and as soon as we have them, they will be packed and shipped out. This is the only item we were waiting on for this box.

** there has been an item switch for this box, announced on 3/30/20. The Jewelry boxes have been replaced with a Slayer Duffel bag. Boxes will be shipping by Monday, April 6, 2020. We will also be including the remaining Hand Sanitizers from the February Fae Crate boxes until we run out. Not all boxes will have one. They will be randomly placed in boxes so that we can share this product while they are the most needed.

When first announcing these boxes we stated that these would ship early April due to the fact that we were getting the books custom made. This is still holding strong. We have checked in with our vendors and all items are still expected to ship out by the end of March to us. Depending on customs checking these packages, we will update you when all is received and when these will ship. China vendors are currently backed up from coming back from holiday so late but so far we have not had orders cancelled, production has just slowed.
We are currently waiting on two items from China. One has shipped already and making its way to the US and the other will ship on Monday. Both were delayed due to the virus shut downs but shouldn't ship too much after our February Bae Crates ship. We will keep you all posted on these.
**3/18/20 Update** March boxes are being prepped to ship! The final item is in. As long as shipping lanes stay open, and there are no closures from Covid-19 outbreaks or the government that hinders our shipping center, they should be shipping within a week. We would give exact dates on those leaving the shipping center, but right now things are tumultious at best. February will follow as soon as we can.
Nameless Hangover Recovery Kits
We are still estimating these to ship in April. Our plushies are shipping out this month to us along with our pins and mystery item we have not revealed yet. Our dust jacket sets will ship out to us in April along with packaging and once we have it all together they will ship. So as of right now and granting that customs will not hold the plushies- we are expected to ship these in April.
It is still very early to tell on this but one vendor we are working with is based out of the Philippines and this is the vendor who alerted us that all mail is being halted until the end of March. This should not affect those items from getting to us on time though so we are still monitoring the postal situations moving forward to make sure these shipping pauses resume in April.
We have already started receiving items for these crates and are only awaiting a couple more items. So far no items from this box have been held due to the virus.
bae Crate Boxes in General

Whichever crate we have all the materials for first- we will ship. If we receive everything for March first, we will ship those. We do not want to hold boxes just to ship in order. I know this may be frustrating but we want to get boxes to you as soon as we have them instead of just trying to keep an order.