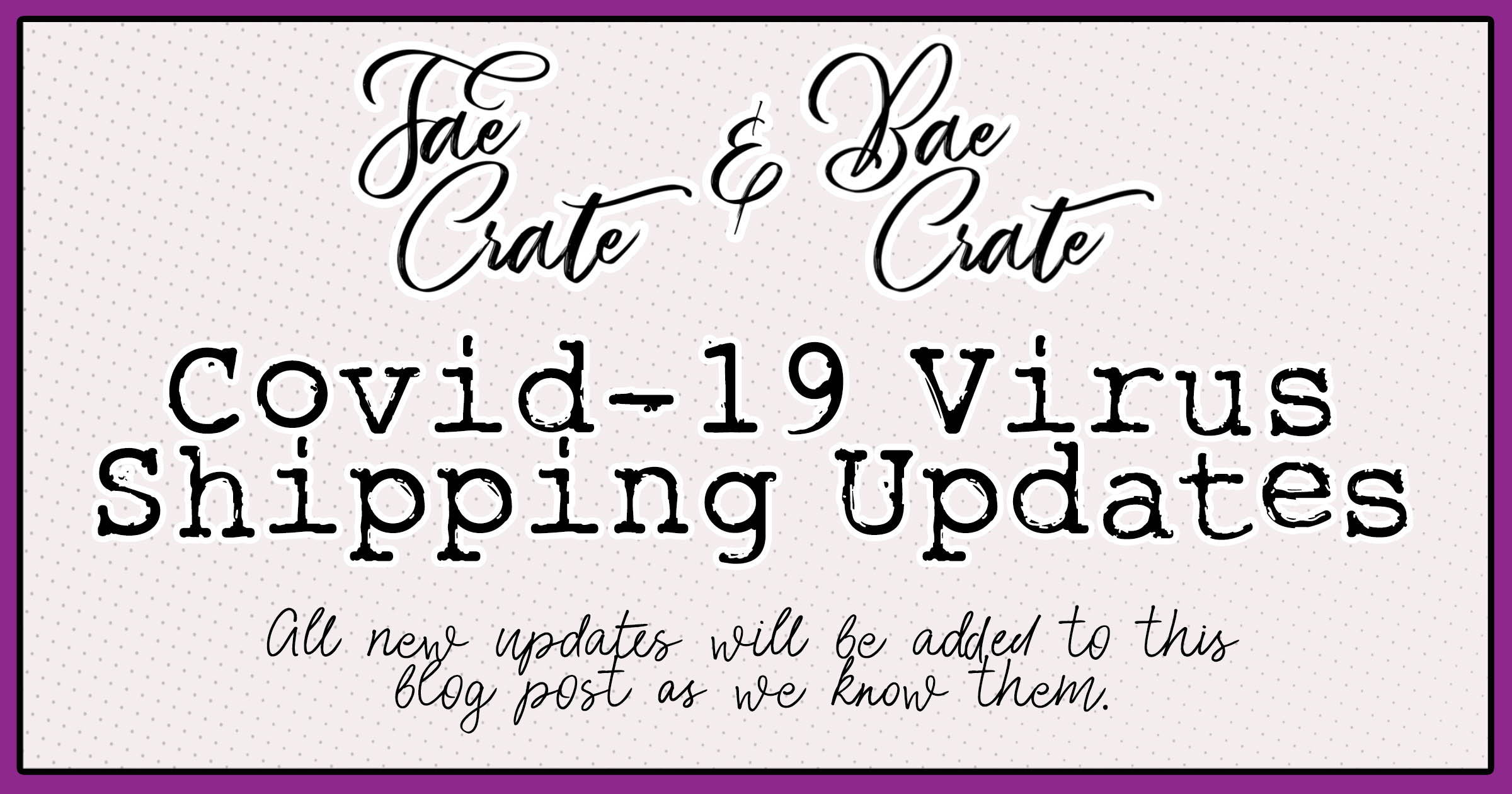 As you all know, a bunch of changes are happening in our world currently involving the COVID-19 virus. We want to go ahead and contact you all and prepare for any situation that may arise in the future. As of now, we are unsure how these changes will impact Fae Crate and Bae Crate as there is something new happening every day.
-Here's the gist of things as we know them-

The United States is currently under a National Emergency that was announced recently. Flights from outside of the United States are being cancelled and banned which will affect some of our shipments, though we are unsure of which. We have been notified by some of our vendors that their postal services are closing down shipments until the end of March and will let us know when they can ship their items out. As of right now- our vendors in China are still working on our products and other than delays in being backed up, none have been cancelled. Meagan, Brittany, and the entire team, are currently dealing with our states closing stores, gatherings, schools closing, etc. A good deal of our team are mothers who will have children at home while working until the end of March at the very least.

We are concerned with the possibility of North Carolina, where our fulfillment center is located, facing the same issues soon. If that happens, it will play as another factor in shipping. As we mentioned, this has not happened yet. Many of the changes that are coming into play are happening very quickly and we are just having to roll with the punches. If or when any of these happen- we will update you all accordingly. We are 100% wanting this entire process to be as clear and transparent as possible with you all.

What most of this means is we are playing a lot of shipping by ear. What we can promise you is that every Fae Crate and Bae Crate WILL ship no matter what. This is not a question of funds or purchasing the items- it is just a question of when these products will be made and received. We have never failed on shipping a box and we do not plan to start here or ever. We will be updating you all regularly on which crates we believe will be impacted. We won't be sending out emails constantly unless something major happens. However, we will post to social media with updates as we have them. And this blog post will be updated each time something new comes up.
We know this is a huge info dump and no one likes to read about delays, us more than anyone. We want these packages our team has worked on to reach your hands very badly. We will continue to be transparent as we have always been to make sure you always know what is happening with your packages. Please be patient with our Customer Service Team as we are receiving a higher influx of emails than normal. Replacements of damaged items may also take more time during the end of this month and April as we will have back to back packages going out and our fulfillment center is not a huge one.

We wish everyone health and safety during this time. Things are very serious and scary in our world right now and we will all get through it together.
**4/22/21** We have been made aware there was a sizing mishap regarding the dust jackets included and we sincerely apologize for this inconvenience! We are currently working with the publisher to have this issue resolved and will post updates to our social media pages and here once we have more information. An email will be going out to everyone who purchased the We Free the Stars Hangover Recovery Kit once a resolution has been made.

**6/8/21** The last item we've been waiting on has been the dust jackets. While we have finally received them, they unfortunately, arrived damaged. We sincerely appreciate your patience while waiting for the last item to arrive, and now that it has arrived damaged, we will not ask you to wait any longer. We are in the process of having them reprinted, but to shorten the delay, we are going to move forward with shipping out the crates! Once the reprint is completed, we will send a second package to everyone who purchased a Blessed Monsters Mini Hangover Recovery Kit.

At this time, we do not have an estimated date for when the reprinted dust jackets will arrive at our center, but we will continue to post updates. Thank you again for your incredible patience with us while we worked to provide updates and get these crates shipped out to you as soon as possible!

**6/15/21** The Blessed Monster Kits will be shipped out within 5-7 business days, and tracking emails will be sent out at the same time!
**4/12/21** While we have received many of our items for this month, we are still waiting on a couple of them to make their way to us and for the amazing special edition books to be released from customs. We will continue to post updates as we receive items!
**4/22/21** Unfortunately, items are still being held by customs, once we see movement an update will be posted!
**4/30/21** We are still waiting on items for this box. We are hoping these will all be in and ready to ship out after March Fae Crate boxes.
**5/6/21** We have received all but two items for this box! One of the items was shipped via sea and will need to clear the seaport customs. Once the item clears customs, tracking will update, and then we will be able to provide an estimated shipping date for the last Bae Crate! We cannot wait for you to receive this box!
**5/14/21** One item for our April BaeCrate arrived with fewer items than ordered. After being unable to get in contact with our vendor, we have decided to move forward with a slightly different item for these missing items. These are both jewelry items of equal value and are similar in tone and style. Some boxes will receive the original item and others the replacement item, and we are so excited to be able to include both pieces!
All other items have arrived for these boxes. This means that as soon as these replacement items arrive, our team will be packing and shipping your orders out! Thank you all so much for your patience as we have worked to get our final BaeCrate boxes out to you. We love every item in this box and cannot wait to share this with you!
**6/3/21** The replacement item is currently being shipped to us from our vendor! We do not have an estimated arrival date yet. Once we do, we will continue to post all updates and information that we have.
**6/11/21** The replacements have been released from customs and are making its way to our Center! Once these have been received we will send out a Newsletter to everyone who purchased this box to check that their shipping addresses are still correct.
**6/15/21** We have received the last item! This afternoon, a newsletter has been sent to everyone who purchased an April Bae Crate to ensure their shipping address is correct. If you do not receive the Newsletter, please contact our Customer Service Team at help@baecrate.com. Be sure to include your order number and the shipping address that should be associated with your order. We will be shipping out this box right after the Blessed Monsters Mini Hangover Recovery Kits are out!
**4/23/21** While we have received many of our items for this month, we are still waiting on a couple of them to make their way to us. We have been receiving items and our Center is working on shipping out the past boxes as fast as they can. We apologize for the inconvenience and delays that have occurred. We will continue to post updates as we receive items!
**4/30/21** Unfortunately, we are still waiting on items and will post more updates as we receive them!
**5/6/21** We are only waiting on two items! One of the remaining items should arrive at our Center by Friday, May 10th. The last item had to be shipped via sea. Tracking will not update until the item clears seaport customs, but we will post updates once it has!
**5/14/21** One of the two last items arrived on Friday! We are still waiting on the last item that was shipped via sea to be updated once it clears customs.
**5/21/21** We are still waiting on the last item to arrive to seaport customs. Once it clear customs we will have an estimated date it will arrive to our Center.
**6/3/21** We are still currently waiting for our last item to arrive and clear seaport customs. We will continue to post all updates and information as soon as we have it!
**6/11/21** Unfortunately, we have not received any further updates on this item. We will add another update once we see movement.
**6/15/21** We have been informed that our last item has arrived at the US port. They are just waiting for FedEx to pick up and bring the last item to our fulfillment center. FedEx is currently backed up, but we should have an update on these soon! Again, thank you so much for your continued patience, and we cannot wait for these to arrive and ship out to everyone!
May Fae Crate Item Change
**4/8/21** Earlier in the week, we announced that we would no longer be including certain fandoms moving forward. Unfortunately, past months like April and March were not able to be changed, as those items have already been purchased. But we were able to switch the fandom item for the May Crates! After talking with one of our incredible May artists, they were able to accommodate the last minute commission! While this item may be minor, it is important, as it will be the first of a new collection series! We want to make sure you all loved the item and fandom, and we really want it to start with a strong foot forward. While changes on this commission are currently being made, the May Crates will be slightly delayed due to the item being completed and ordered later than they were originally planned. We felt having a different fandom to ensure our followers were comfortable and happy with the new collection was more important than keeping the shipping date on track. We are super excited to share this new collection with you and will be announcing it soon!
**5/21/21** Our last item for the new collection series is being packed and will be shipping out to us any day. We cannot wait to share these with you! We will post updates when we have an estimated arrival date for these!
**6/3/21** We received an update from the publishing company that the books included in our May box are slightly delayed. We've been informed that the books should arrive soon. We are currently still waiting on our last item to arrive. Once we have both the book and our new item from our Apothecary Collection, these boxes will be packed and shipped out!
*6/10/21* We have been informed by the publisher that while the books were supposed to be delivered already, unfortunately, they are experiencing some delays with these editions. The shipment date has been pushed back by two weeks. Once we have the new shipment date we will let everyone know!
**6/3/21** Just a reminder that while the book has been released, these were not expected to ship out till late June/early July, per our Sales Page.

** 6/22/21** Unfortunately, we are still waiting on a couple of items for this box, one of which is still stuck in customs. We've had a few delays across the board these last few months due to overbooked shipping vessels, backed up customs ports, shipping companies picking up from ports, etc. We have been navigating these delays as best we can and are so grateful for you all being so patient!
Our Center is currently packing up the Blessed Monster Kits, April Bae Crate boxes will be next, and May Fae Crate will most likely follow next. We are hoping that we will have received all the items for the June boxes by the time our May Fae Crates are shipped out. But as always, we will continue to post updates as we have them!

**Added 4/22/20**

There are multiple countries that are currently not accepting shipments or that we are unable to transport shipments to. If you're an international box is unable to accepted, USPS is marking them as Return to Sender. If we receive any boxes back , USPS has guaranteed that they will accept the package back for shipping once shipping lanes have reopened.

You can read more about what countries are currently listed and USPS's policies here.