Brittany and Meagan were two simple girls who shared a love of the wonder found in books. Brittany ran a small shop and one day Meagan happened upon it. The girls instantly recognized something in the other, and became fast friends. Meagan began to Rep for the shop, and together they spoke of books and dreams and the future. Soon it would not be enough. They both wanted more.

Together they decided they wanted to share their love of Fantasy and Sci-Fi with the world and thus Fae Crate was born of the Cauldron in March of 2018. The two girls, normal before, were suddenly named High Ladies of a magical box of wonder.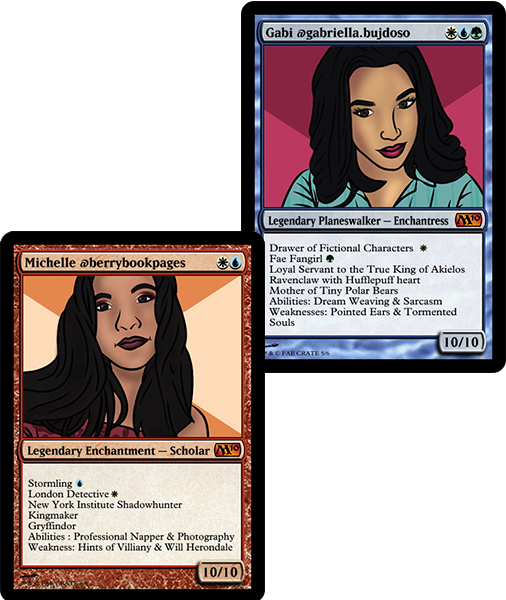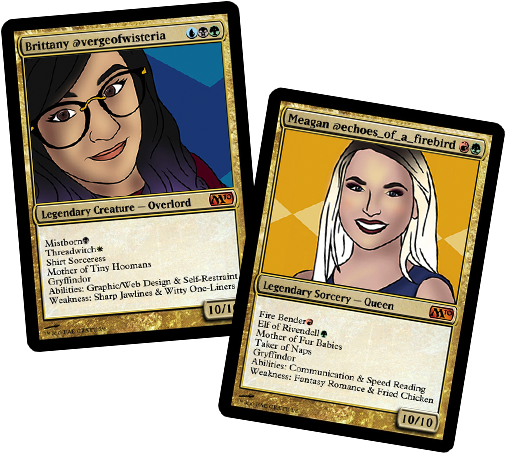 Following soon after, Gabriella joined the fledgling team. The High Ladies adored working with Gabi since their very first commission with her for the April 2018 Battle Cry crate. Gabi genuinely cared about what she created and wanted to do every character justice. It didn't take long for the High Ladies to request(nay, beg!) her to join them on their quest by becoming the official Fae Crate Illustrator.

Michelle was the next to join the Merry Band of Ladies! She was so very joyful in all things she did, which drew the High Ladies to her like moths to a flame. With her quick reading skills, and curation creativity, she quickly became a valued friend. She was tasked with reviewing eBook submissions and the lifting of spirits, and has never let the team down.

And then there were four.
Celestial Beings blessed Fae Crate with a spell of growth during their first year.

Boxes were being sent out all over the world to an astounding number of Fae Friends.

The High Ladies were both in awe and overwhelmed.

Fairy bound messages were flying in from all corners of the kingdom, and they couldn't keep up.
Lyss and Ashlee, both long time friends of Brittany & Meagan, were their new saviors. When the High Ladies put out the call for assistance, they appeared to save the day.

Lyss was able to assist Brittany with designing and enchanting items. She wove witchery around problems and blinked them out of existence.

Ashlee's powers lie in charms and bewitchment. She also helped to answer messages and assisted the High Ladies with keeping a happier kingdom on multiple fronts. She would also be playing a role in the newest quest bestowed upon the kingdom, Bae Crate.

Together the 6 High Ladies of Fae Crate seek to vanquish the darkness, and bring magic & light to reading again for all.