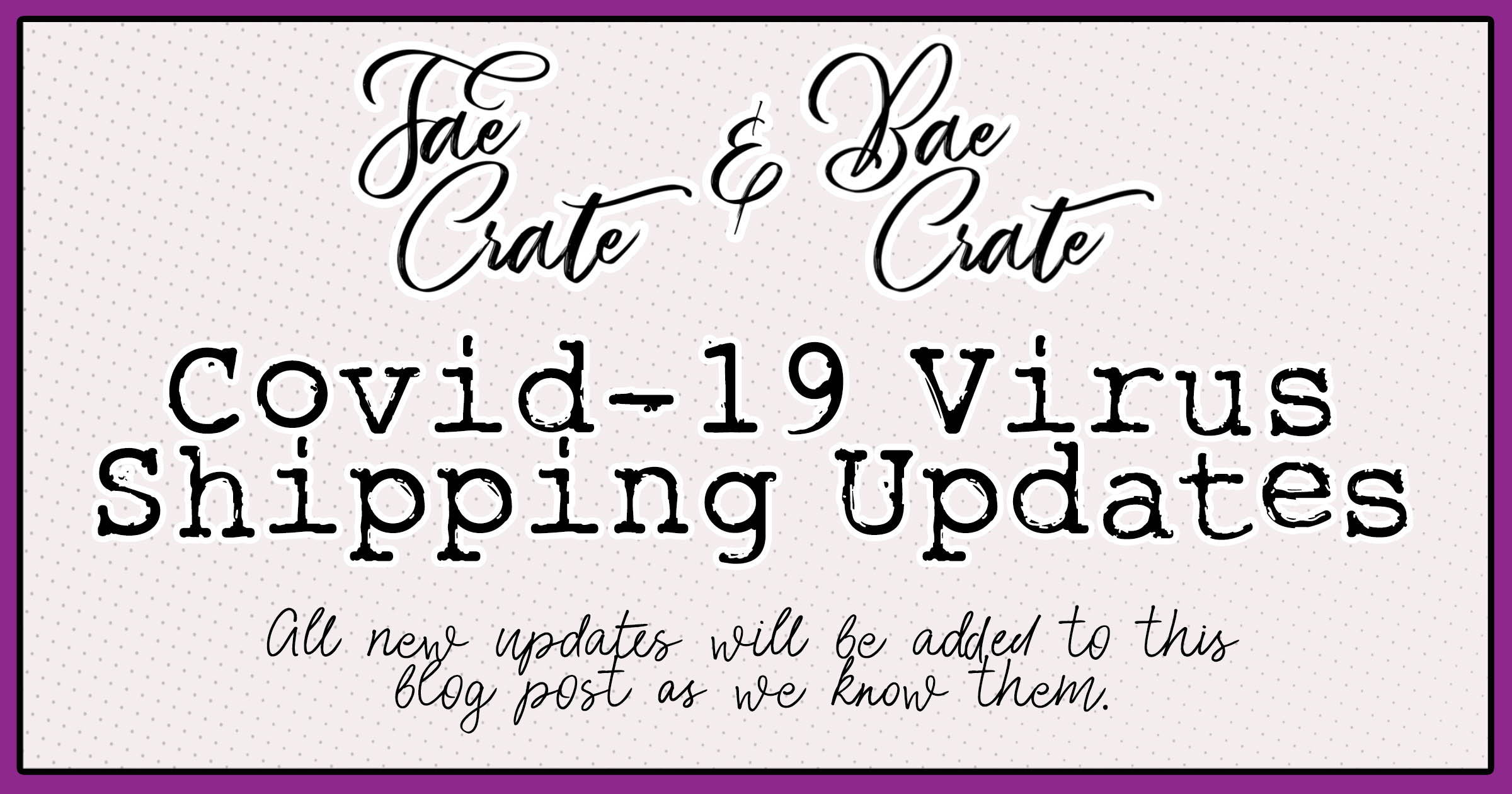 As you all know, a bunch of changes are happening in our world currently involving the COVID-19 virus. We want to go ahead and contact you all and prepare for any situation that may arise in the future. As of now, we are unsure how these changes will impact Fae Crate and Bae Crate as there is something new happening every day.
-Here's the gist of things as we know them-

The United States is currently under a National Emergency that was announced recently. Flights from outside of the United States are being cancelled and banned which will affect some of our shipments, though we are unsure of which. We have been notified by some of our vendors that their postal services are closing down shipments until the end of March and will let us know when they can ship their items out. As of right now- our vendors in China are still working on our products and other than delays in being backed up, none have been cancelled. Meagan, Brittany, and the entire team, are currently dealing with our states closing stores, gatherings, schools closing, etc. A good deal of our team are mothers who will have children at home while working until the end of March at the very least.

We are concerned with the possibility of North Carolina, where our fulfillment center is located, facing the same issues soon. If that happens, it will play as another factor in shipping. As we mentioned, this has not happened yet. Many of the changes that are coming into play are happening very quickly and we are just having to roll with the punches. If or when any of these happen- we will update you all accordingly. We are 100% wanting this entire process to be as clear and transparent as possible with you all.

What most of this means is we are playing a lot of shipping by ear. What we can promise you is that every Fae Crate and Bae Crate WILL ship no matter what. This is not a question of funds or purchasing the items- it is just a question of when these products will be made and received. We have never failed on shipping a box and we do not plan to start here or ever. We will be updating you all regularly on which crates we believe will be impacted. We won't be sending out emails constantly unless something major happens. However, we will post to social media with updates as we have them. And this blog post will be updated each time something new comes up.
We know this is a huge info dump and no one likes to read about delays, us more than anyone. We want these packages our team has worked on to reach your hands very badly. We will continue to be transparent as we have always been to make sure you always know what is happening with your packages. Please be patient with our Customer Service Team as we are receiving a higher influx of emails than normal. Replacements of damaged items may also take more time during the end of this month and April as we will have back to back packages going out and our fulfillment center is not a huge one.

We wish everyone health and safety during this time. Things are very serious and scary in our world right now and we will all get through it together.
The Bridge Kingdom/The Traitor Queen

**9/9/20** The books are on their way and should be here soon! Due to shipping policies changing recently, these are taking just a bit longer to get through customs than planned. However, we are expecting these to arrive soon and will have them packed up as quickly as possible.

**9/22/20** The books are still on their way to us unfortunately, but we are monitoring the situation and hope to have more information soon!
**10/13/20** We are unfortunately still waiting on the books to be released but as soon as that happens, we will be posting another update! Thank you so much for your patience as we work to get these books to you as quickly as possible.
**10/20/20** These books are currently arriving a couple boxes at a time and we are just waiting on the last few boxes to arrive! Once those are in, we will be sending out an email to double check all addresses before shipping!
To Sleep in a Sea of Stars
**9/9/20** We are currently just waiting on items to be released from customs, but those should be released any day now! As soon as we've received those we will have these packed up and shipped out!
**9/22/20** A couple of the items are still on their way, but we are monitoring the situation and hope to have more information soon!
**10/13/20** We are now only waiting on the last item to arrive and it should be here soon! Once it has arrived an email will be sent out regarding address updates. We are so excited to get these out the doors and into your hands!
**10/20/20** That last item is on it's last leg to us and we're hoping to get that address email sent out soon! You will receive an email notification as soon as that has been sent.
**10/20/20** We are currently waiting on these books to finally make their way to us. As we've been experiencing, these books have been held back by customs and we are just waiting on those to be released and sent over! We will be posting another update as soon as we have one!
**Added 4/22/20**

There are multiple countries that are currently not accepting shipments or that we are unable to transport shipments to. If you're an international box is unable to accepted, USPS is marking them as Return to Sender. If we receive any boxes back , USPS has guaranteed that they will accept the package back for shipping once shipping lanes have reopened.

You can read more about what countries are currently listed and USPS's policies here.